The Municipal Forum on Sponsorship Sales
October 22, 2019, full-day workshop
Cash in on Naming Rights
Over a four month period between mid-October 2018 and mid-February 2019, the City of Pickering announced naming rights sales totalling more than $16 million. Included in those announcemenst was the naming of the city's new central library, a building that hadn't even been designed when the agreement was reached. This is the first naming rights sale of a public library in Canada.
Among selected brands in the right categories, there's a strong appetite for naming rights. But gaining top dollar for those rights requires the right approach. Arenas, community centres, libraries – these are the Crown Jewels of your municipal inventory. You don't want to give  them away.
Your session leader, Judy Haber, will ensure that you don't. Judy has arguably raised more money for municipalities through naming rights sales over the past five years than anyone else. Judy is the architect of those three naming rights agreements that added $16 million to the City of Pickering's coffers.
Join Judy Haber and your colleagues from municipalities across the country for an intensive day-long session on how to maximize your naming rights revenue.
Recent Article – The Sponsorship Report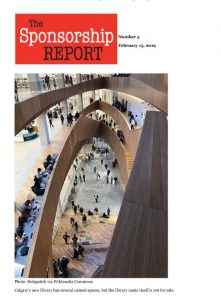 Public libraries are no different from community centres, says Judy Haber, Senior Partner of Performance Sponsorship Group (PSG) and the architect of the first corporate naming of a public library in Canada. Community centres take care of the social and physical health of the community with meeting paces, pools and rinks. Libraries take care of the intellectual and entertainment needs of the community, with books, digital resources and programming. Both are treasured community assets, but one has been considered largely off limits to facility-wide corporate naming. 
That may begin to change now that Pickering City Council has given approval in principle to a 20-year, $10 million naming partnership for its planned new library with developer Triple Properties, the company behind the massive $1.5 billion Durham Live entertainment project that broke ground late last year. Triple Properties acquires naming rights to a downtown building whose construction won't even begin before the next decade, yet it will plunk down its entire $10 million rights fee up front, says Haber.
The library naming is one of three naming rights deals recently brokered by PSG on behalf of its client, the City of Pickering, all involving real estate developers. Lebovic Enterprises has agreed to purchase naming rights to the future Seaton Recreation Complex for $5 million for a 20-year term.
On October 15, 2018 TSR reported on the sale of naming rights to the Pickering Recreation Complex to Chestnut Hill Developments for $1.125 million over a 15-year term. The Greater Toronto Area's white-hot real estate market makes real estate developers eager naming partners for nearby community centres. As in real estate, "location" is probably the prime driver of a naming rights acquisition by a developer, says Haber. The proposed $62 million Seaton Recreation Complex will serve a large, new residential development, projected to house up to 70,000 residents, in North Pickering. Haber calls it the Cadillac among naming rights opportunities in the new Seaton community, and several developers had expressed interest in it.
"Lebovic responded faster," says Haber.
That points to another key driver, she says: blocking. There was little question that the Seaton Recreation Complex would be named. By being quickest off the mark, Lebovic has blocked its competitors.
The same two factors were in play for the library naming, though not exactly for the same reasons. The new Central Library will be located in downtown Pickering, nowhere near the Durham Live complex that Triple Properties is building. However, the new Central Library is only one part of a complete redevelopment of the city's downtown. Triple Properties is interested in participating in that redevelopment, and the city has expressed interest in selling its downtown community centre to a developer once new facilities are ready. A new residential development by Triple Properties adjacent to the new library would help overcome the challenge of agreeing on a new name for the library. Triple Properties Library or Durham Live Library are unlikely to be high on anyone's list.
Haber says that in all three cases, she pitched the specific property to the naming partner rather than present each with a list of available assets. In the case of Lebovic Enterprises and, earlier, Chestnut Hill, the choice was easy: the property was in the middle of or adjacent to their real estate development. In the case of Triple Properties, however, it was because she learned that the principals of the privately-held company had a strong interest in education.
It was also a property she was very keen to sell.
"When I was being interviewed for the job in front of city council, it became clear to me that the library was important to city council members," she says.
Both Lebovic Enterprises and Chestnut Hill will pay their rights fees in equal instalments over the term of the contract, as is usually the case. But not Triple Properties. They'll pay the entire bill up front.
It was about impact, says Haber. Once the $10 million fee and 20-year term had been settled upon, she explained how payment up-front magnifies its impact. It would be a "game-changer" for the city, she explained. The fee can be invested and will buy much more
when shovels finally hit the ground. Both the Lebovic and Triple Properties contracts also demonstrate the value to brands of getting in early on naming rights agreements. Both partners will now have an opportunity to shape developments that will bear their name for a very long time. Construction on the new library isn't slated to begin until 2023, says Haber.
Time will tell whether the naming rights agreement for this library is the first domino to tumble, and that cities and library boards will subsequently become more receptive to corporate naming partnerships. In recent years, libraries have opened their doors a crack to naming partners for facilities and venues within their buildings – for instance, BMO and several legacy donors have named spaces within Calgary's new library. But these represent modest sums, and Haber believes that library naming rights are overdue. "It's actually easier to command six and seven figures than to be in the business of chasing $25,000 deals," she says.
Corporate Naming Rights
and Sponsorship
Performance Sponsorship Group (PSG) specializes in the design and sales of corporate partnerships in North America with an unwavering commitment to integrity, professionalism and results. PSG succeeds in markets as small as 500 people to major urban centres.
Performance Sponsorship Group
Extensive experience in the North American sponsorship industry, with full-service access to a network of specialists.
Unparalleled client service, characterized by professionalism and integrity.
Innovative creative sponsorship design and pragmatic valuation analysis.
Access to corporate decision makers; proven sales record in Canada and the United States.
Valuation / Evaluation of Assets
Hosting & hospitality;
Tickets;
Signature events;
Access to special privileges;
Signage—internal and external;
Media communications—media kits, press releases;
Stakeholder communications—posters, brochures;
Advertising—print and electronic;
Billboards;
Foundation materials;
Direct mail; and,
Online.
Category exclusivity;

 First right of refusal;

Showcase;

Sampling;

Prestige of property;

Management competency;

Networking through access;

Use of wordmark;

Brand Linkage

Strength of market position;

Corporate culture; and,

Quality of public relations.
Packaging Assets / Sales Documents